What do we expect from this encounter?
Dear Girls,
Lots of us still remember the Youth's meeting in Schoenstatt during the World Youth day in Colonia 2005 that was a moment in which we experienced the great gift of being one unique international youth together in the Original Shrine, with Mary and Father Kentenich.
Madrid 2011 gives us a new opportunity to meet once again and this time, we would like to do so, especially as the INTERNATIONAL Schoenstatt Girl's youth.
Our main intention is to:
PREPARE OURSELVES FOR THE
COVENANT OF LOVE'S GREAT JUBILEE,
WICH WILL TAKE PLACE IN SCHOENSTATT 2014.
How will we do this?
JOYFULLY CELEBRATING the fact that we all form part of a Youth that has a great history and a great mission.
SHARING EXPERIENCES, HOPES AND CONCERNS, because every single girl, no matter the place she's from, has a very important treasure from which all of us can learn.
SHARING OUR COMMON MISSION in order to feel that we aim the same goals and that we have the answer to the challenges of today´s society.
With this website our aim is to:
      
be informed.
      
remain linked to each other.
      
give our own creative ideas to build this meeting together.
We hope that with your contribution and with the great experience that Madrid 2011 will represent a stream of life can arise and that in this way we can make our way to 2014.
Today, Father Kentenich proclaims once again:

The first time Juan Pablo II came to Spain he gave us a especial mission that he repeated before leaving: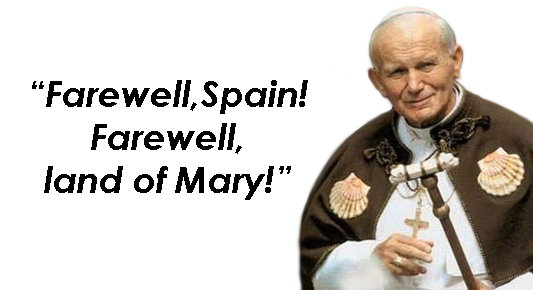 We are glad to welcome you to Spain, land of Mary, where we want to unite our hearts in order to be a living crown for the Church!