6 Letter to the Girl's Youth
Madrid, February 8, 2011.
Dear Girls Youth,
With joy we write to you for the very first time. We are the International Girls Youth Volunteering Team and we are already in Madrid to help Spain's Girls Youth to prepare the Encounters in the remaining seven months. We are 4 girls: Timi (from Hungary), Ma. Del Carmen, Daniela and Kerly (from Ecuador); and Sr. M. Felisia (from Germany).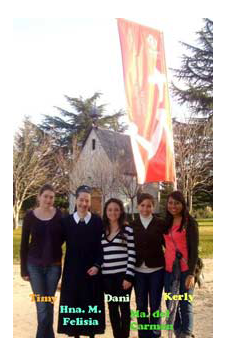 Because of that, from now on, we will be able to solve quickly all your concerns and doubts; and we can exchange and contribute with ideas, etc. We are absolutely available, every single day of the week

!
Now that we are getting closer to the International Girls Youth Encounter, we need you to send us, as soon as possible, the approximate number of girls that will come from your country, and the contact of the group's responsible so that we can directly communicate with you.
Also, we want to invite you to keep on conquering our motto: "With you, Father, Living Crown for the Church", so that our Mater will crown herself in this encounter and in the posterior days as Church. For this, we propose you the following: pray as many 'Let us walk like you through life' as you can, asking especially for all the girls that will participate of the encounter physically and/or spiritually. The way of counting them will be through common and regular matches, of domestic use, which you will have to bring in your suitcase to the Encounter. (We could tell you what we are going to do with them, but we prefer to surprise you!)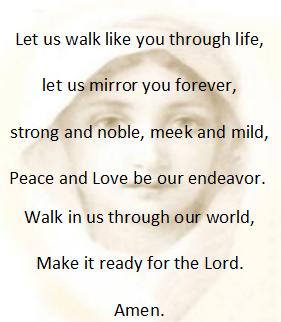 We are hoping for your answers and we keep on praying for gathering together as a Schoenstatt family. Any concerns don't doubt to let us know.
United in the RTA, your voluntaries team,
Timi, Daniela, Kerly, Ma. Del Carmen, Hna. M. Felisia